Join Here!
Membership is open to all persons or organizations interested in furthering ELHS objectives and is established or renewed by calendar year upon payment of annual Section dues ($15). Voting Membership is restricted to active members of AFS. Affiliate membership is open to persons or organizations who are either affiliates of or not members of AFS. Affiliate members of the Section are encouraged to participate in Section meetings, committee work, and other activities, but they cannot vote on official Section matters, run for or hold an elected office, or chair standing committees. All members receive Stages, the official ELHS Newsletter.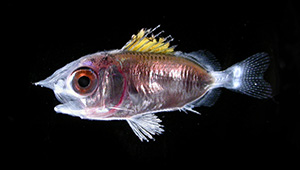 ---
If you are an active member of AFS wishing to add (or renew) ELHS membership, simply check the box for the Early Life History Section on your annual fall AFS dues/subscription statement for the upcoming year and add the $15 annual ELHS dues to your annual AFS dues and other payments. 
---
Joining ELHS as an Affiliate Member
(non-voting member or organization, AFS affiliates and persons not belonging to AFS).
Join Here
Alternately, you may mail your name, institutional affiliation (if appropriate), mailing address, telephone and fax numbers, e-mail address, and dues* for the current and/or upcoming year(s) to:
Treasurer ELHS – AFS
NCSU-CMAST
303 College Circle
Morehead City, NC 28557
USA
* Dues are US$15 per calendar year and may be paid more than one year in advance. Please specify the membership years for which you are paying dues (e.g., current year and/or next). Make checks or money orders payable to "ELHS – AFS".
Renew affiliate membership annually or periodically by sending dues for the coming year(s) with any changes in affiliation, address, phone or fax numbers, or e-mail address to the ELHS Treasurer or through PayPal "Donate" button above.