In Memoriam: Robert G. Werner 1936 – 2020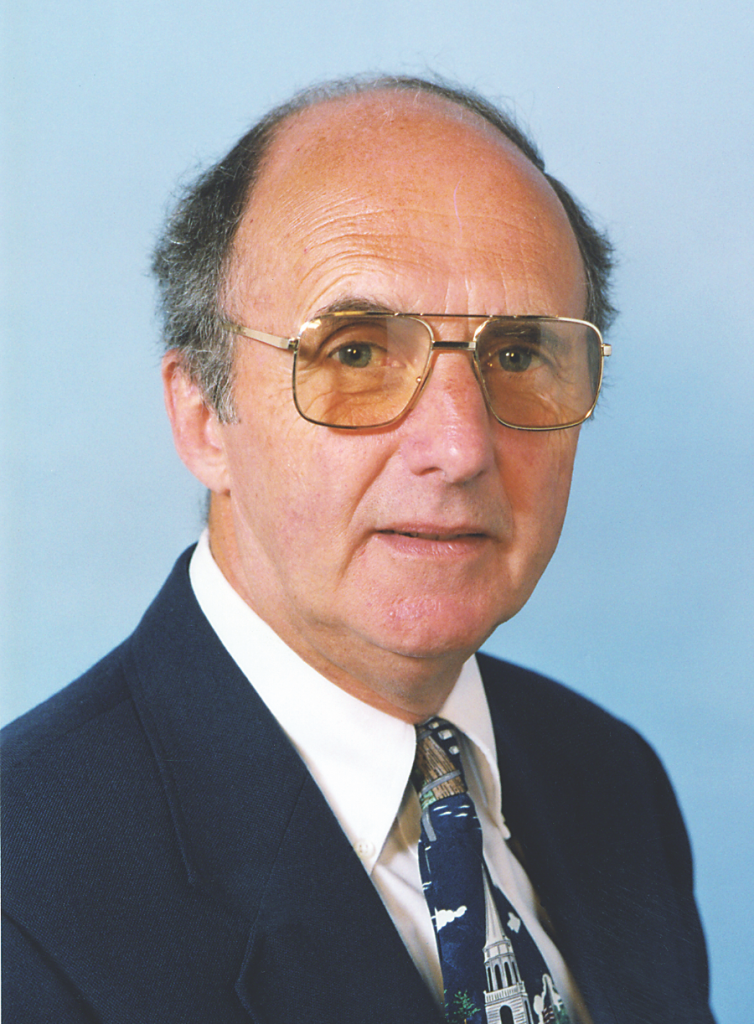 The Early Life History Section lost one of its most long-standing members on September 13, 2020. Bob Werner passed away after 6-month battle with cancer. Bob enjoyed more than 20 years of retirement, so many members of today's ELHS community may not have had the great pleasure of knowing this warm, charming, happy, humble, and gracious fellow.
An article in the October 2004 issue of STAGES, which commemorated Bob's retirement several years earlier, summarized his professional career to that point. Here, I repeat and update that article.
Bob Werner was a dedicated member of the Section since its inception. He was appointed to the Provisional Executive Committee that led the Section through its organizational year (1979-1980). The Section largely grew out of the Larval Fish Conferences, and in the early years of the ELHS its editorial board oversaw publication of the Larval Fish Conference proceedings. Bob served as an Associate Editor (1985-1988). His service to the Section's governance continued when he served as President-Elect (1986-1988) and the Section's seventh President (1988-1990). Up until that time, only one of the 12 Larval Fish Conferences had taken place outside the U.S. (Vancouver, 1984). In his "President's Reports" published in STAGES, Bob described new initiatives to expand involvement of scientists from other nations and to increase interactions with other AFS sections. Since then, the conferences gained more and more international participation.
Born in South Bend, Indiana, Bob received a B.S. in Zoology from Purdue University. After serving a tour of duty in the U.S. Marine Corps, stationed in California, he attended UCLA and received a master's degree in Zoology. From there, he returned to his home state to enter a doctoral program at Indiana University under the supervision of Shelby Gerking. Bob's doctoral dissertation research resulted in publications on the ecology and movements of bluegill larvae, which appeared in Transactions of the American Fisheries Society (1967) and American Midland Naturalist (1969), as well as a chapter on methods for sampling fish larvae in Bill Ricker's Methods for Assessment of Fish Production in Fresh Waters (1968). These were the very early days of larval fish research in North American freshwaters systems, and Bob's work was truly pioneering. The National Power Plant Team organized a freshwater larval fish workshop in 1976 in Ann Arbor, Michigan, which preceded even the first of what we now refer to as the annual Larval Fish Conferences. Already a recognized expert, Bob was invited to attend, and the proceedings of that workshop included a "state-of-the-art" paper and an annotated bibliography, both on larval fish taxonomy and authored by Bob Werner.
The State University of New York – College of Environmental Science and Forestry (ESF) in Syracuse hired Bob as an Assistant Professor in 1966. He moved to nearby Cornell University for two years, then returned to ESF, where remained until he retired. He taught limnology, ichthyology, and fishery biology. He also developed a tropical ecology course that took him and his classes to Dominica in the West Indies, possibly to escape the long, snowy winters of Syracuse (although Bob enjoyed cross-country skiing!). His research interests were broad, including studies of fish reproductive movements and habitat use, nursery habitat ecology, feeding and growth of fish larvae, fish bioenergetics, and invasive zebra mussels. A 1999 tribute published in the Great Lakes Research Consortium Report stated: "his research has varied from sunfish, to suckers, to sturgeon, and rainbow trout to zebra mussels, plankton and aquatic insects." Within New York State, he conducted research in the Great Lakes, Adirondack Mountains, Oneida Lake, Finger Lakes, and the St. Lawrence River, where he is well known for his studies on northern pike and muskellunge. But his research extended well beyond the borders of New York. His sabbatical leaves took him to the Scottish Marine Biological Association (Oban, Scotland) to work with John Blaxter (1978), Buenos Aires, Argentina as a Fulbright Scholar (1988-1989), and the NMFS Beaufort Laboratory (1996).
Featured among Bob's professional honors are a Fulbright Scholarship, being elected Fellow of the American Institute of Fishery Research Biologists, and the AFS Professional Achievement Award. He was elected President of the New York Chapter of the American Fisheries Society, President of the Early Life History Section of AFS, and elected to the council on Great Lakes Resource Managers. He also served as a founding Co-Director of the Great Lakes Research Consortium. He was Associate Editor of the Journal of Freshwater Ecology and Transactions of the American Fisheries Society, and he served on many more professional panels and committees.
During the summer of 1976, Bob and his family lived on an ESF property on Governors Island, where he studied fishes on the St. Lawrence River. With his students, he continued to develop a long-term fish ecology research program on the river, which eventually grew to become the Lorraine E. Lewis Thousand Islands Biological Station. Upon his retirement, he was named Professor Emeritus at SUNY-ESF.
I wrote in 2004 that this record reflects a personality that could not possibly close the door at retirement. How true that was. Around the time of his retirement, I invited Bob to help edit a textbook (Fishery Science: The Unique Contributions of Early Life Stages) aimed at improving the training of young fishery scientists by emphasizing the importance of early life stages. He eagerly accepted the offer, and during the course of our two-year collaboration, I found his contributions to the book to be far greater than I could have imagined. But, Bob's list of post-retirement projects was endless. After completing our book, he took on a revision of his own book Freshwater Fishes of New York State: A Field Guide, originally published in 1980. From what I can surmise, that revision turned into a very popular expansion, as Freshwater Fishes of the Northeastern United States: A Field Guide, which appeared in 2004. He also authored several waterproof, laminated folding guides to the freshwater fishes of different parts of the United States (New England and the Adirondacks; Florida; Texas; Southeast) published between 2009 and 2011 (check them out on Amazon.com).
An interview published in the SUNY-ESF Alumni News (Winter 2011) described some of his contributions to organizations in Upstate New York that deal with natural resource issues. He was Chairman of the Board of the Upstate Freshwater Institute, which addresses issues of aquatic ecology on Onondaga Lake and on the water supply reservoirs in New York City. He was Secretary of the Finger Lakes Land Trust, which works with landowners and farmers to preserve the beautiful landscape of the region. As a homeowner on Skaneateles Lake, he had a professional and personal interest in the health of that system. He brought scientific expertise to the Skaneateles Lake Association, when working with the New York Department of Environmental Conservation and other organizations as they addressed the environmental challenges of invasive Eurasian watermilfoil, hydrilla, and Asian clams, and the massive influx of salt and nutrients into the lake caused by heavy rains. Because of his "passion, dedication, and commitment" to the health of the lake, the community of Skaneateles named Bob "2013 Citizen of the Year" and the Skaneateles Press named him "Hero of the Lake" in 2014.
Those who attended Larval Fish Conferences during Bob's active years remember him as a wonderfully charming, thoughtful, and creative fellow. They will have met his lovely and gregarious wife, Jo, who often accompanied him to conferences. They were a terrific, fun couple…if you were able to keep up with them. It's no surprise that they enjoyed the company of many friends and a loving family, including two children and five grandchildren. The State University of New York – College of Environmental Science and Forestry is accepting donations to the Robert G. Werner Scholarship to support a student at the Thousand Islands Biological Station (https://www.esf.edu/wernerfund). Donations to honor Bob Werner can also be made to the Skaneateles Lake Association (skaneateleslake.org/memory-honor-donation) or Finger Lakes Land Trust (www.fllt.org/donate).
— Lee A. Fuiman
* This article was originally published in the last issue of the STAGES newsletter. Consider joining the Early Life History Section of AFS for only 15$ to connect with this dynamic community. JOIN HERE